Dolcetto d'Alba D.O.C.
Impenetrable ruby red in colour and intensely scented, with hints of prune, blackberry and other red fruits, on a spiced, lightly balsamic and fruity background.
Its complexity makes it last more than 8 years.
NOTES
Colour: red impenetrable ruby with violet glares
Scent: Intense with hints of plums, blackberry and red fruits, on a spiced end
Flavour: Wrapping,soft and full with an almond end that is typical of the vitigno Dolcetto
Best served at: 18° C
Food matches: Its ideal approach is with appetizers, first courses, white meat, red roasted meat brazed and overcooked, dishes with truffle, stewed or roasted blue fish, seasoned cheeses.
VINEYARD
Cru: Bricco Caramelli
Height o.s.l.: 470 m.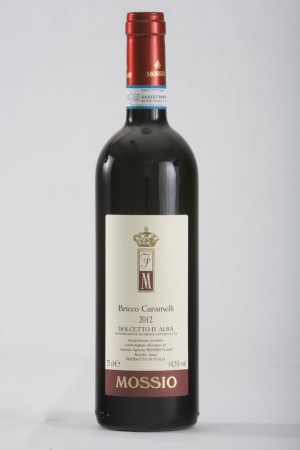 Sun exposure: our vineyards are situated on a ventilated and sunny all day long
Vines per hectare: 5000
Farming: Gujot and a balanced dry pruning, a careful cure in the moment of greater vegetative development and a radical thinning before and after the beginning of the ripening, manually executed, allow a close care of a qualitative control. The mechanized part of the job concerns exclusively the treatments (copper sulphate and pit sulfur) and the control of the grass growth.
Soil: Sand 27%, Limo 51%, Clay 22%
Surface: The vineyard extends on an area of more one hectare
PRODUCTION PROCESS
Harvest: The vineyard extends on an area of more one hectare
Vinifcation: in steel vats for ten days of maceration on peel
Fining: In bottle for two months
Vintage: 2019
Produced bottles: 5000
Ageing potential: it must be drunk within 8 years, depending on the vintage year.
Alcohol vol. (%): 14,50% vol.