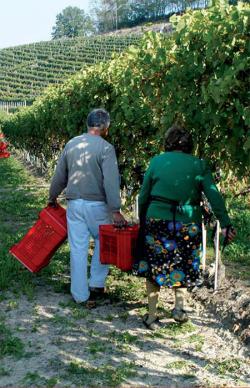 Passion for wine, an indissoluble passion for the Mossio family. As indissoluble as the affection for family lands, work, and unique vineyards planted in enviable and breathtaking locations. The family business was started by  Francesco, the grandfather, and Francesca, the grandmother, to be continued by Luigi and Ennio Mossio with the support of their wives, both named Margherita, and up to their children. Nowadays, Valerio and Remo, supported by Michele, their grandson, are personally committed to produce Dolcetto d'Alba, Bricco Caramelli and Piano delli Perdoni; Barbera, Nebbiolo and Langhe Rosso – the result of a happy union between Nebbiolo, Barbera and Dolcetto, "Gamvs", Dolcetto d'Alba Superiore (premium quality) and "Le Margherite", a passito (dessert) wine.
Mossio – the synonym of a hard working family, whose members on one hand have specific roles and on the other hand are committed towards the same goal: wine quality.
In the most ancient land registry of Rodello, a 16th century text, the territory where today the Farm is sited is divided between many different owners. We know the names of some of them, like Baldassarre Negro, the brothers Giovanni Petrino and Antonio Magalli.
We don't know who was at the time the owner of what is cited as "…a piece of land with vineyards…" This little phrase shows how this particular land was farmed with grapes already in that century. It seems like there were no houses then. The farmhouse as we know it didn't exist back then: today it's a group of buildings including the house, warehouses, and the buildings where the wine is made. The land owners, then, used to live in the tow, inside the fortificated walls; inthe country there were only warehouses and similar buildings.
As far as the other owners are concerned, they were probably of the Niella family; they were lords of Rodello since 1393. We don't know exactly how large their land was, but in ancient texts their neighbours are said to be the brothers Galeotto and Simone Niella. In the following land registry (1649?) there's the proof of the actual presence of the lords on the area that today is the Farm. In that text the only owner appears to be the countess Clemenza Francesca Niella widow Falletti, sole heir of all the Niella richness.
In 1676 the countess Clemenza left all her belongings in Rodello to the family Caramelli, marquis of Clavesana, since she was grandmother of the count Annibale II Caramelli. In the list, for the first time she spoke about the farmhouse, and, among the fields, about a particular farming technique, of both grapes and corn on the same field; this technique has been used in the Langhe until the Fifties and Sixties.